Is BankRate's Obamacare Site Intentionally Misleading Consumers?
We pay close attention to the health insurance industry and the domain space, and certainly on who within the ecosystem is building sites around Obamacare related urls. One of the things we also do, is track the number of shady players who are using very misleading URLS. For example one we have tracked for a while now is, Obamacaregov.com. This time last year, that URL was active, now this year it seems that the URL is now re-directing to Healthcare.gov.
Within paid search results it's not too difficult to quickly find the shady players, or the sites who are playing with fire. By fire, we mean that they're trying to leverage consumer confusion as a means to generate more business which ultimately will lead to them being shut down by CMS or a state insurance regulator.
Don't think the government can do it? Or do you think that UDRP isn't such a big deal? Well, just ask Quinstreet about GIBill.com, a lead gen website that the government felt did two things. #1, it had a design and functionality that they felt was misleading to veterans. It was alleged that the goal of which was to fool veterans into thinking that it was a legit government site. #2, it pushed veterans into degree programs that their GI Bill money wasn't a good fit for. Quinstreet was marketing expensive private (often online only) schools which in recent years have come under fire because of the alarmingly low graduation rates and high tuition costs. Quinstreet ultimately settled the case and paid a $2.5 Million fine, and turned over the domain name. So while it might seem far-fetched that the government would come cracking down on BankRate over this, it isn't necessarily out of question.
One of the more creative ways we've seen this is by some people actually trying to claim ™ rights to Obamacare within a paid search ad. Hilarious but ultimately not that big of a deal.
This next example however is a bit more surprising considering that it's coming from BankRate (RATE) who aren't big in the healthcare space, but this certainly isn't one way to change that and not what you would expect from a company with a $1B+ market cap.
Look familiar? Well if you've been to Healthcare.gov within the last 12 months it should.
Here's Healthcare.gov, the actual government website
What BankRate's design might have been more focused on doing, is looking more like the page that many consumers saw last year when Healthcare.gov was struggling.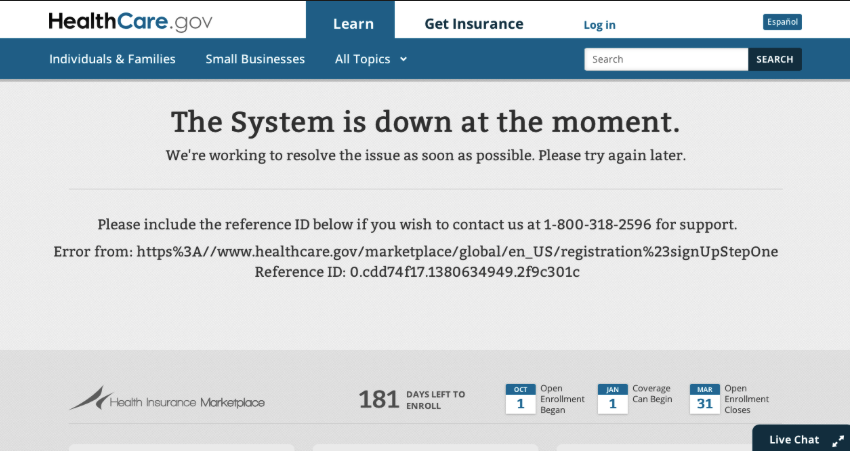 That starts to look even more likely when you take a closer look at the PPC Ad that they're sending traffic to this URL from.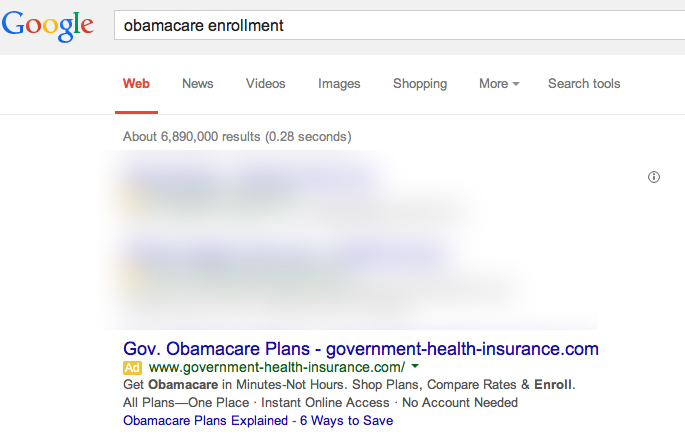 If you're going to tell people that might have tried to enroll last year that they can, "Get Obamacare in Minutes-Not Hours" and you're sending them off to this website that looks pretty similar to Healthcare.gov, you might be tipping your hand just a little too much for CMS.
When you call the toll free number listed on the website, you get connected to a phone rep from BankRate's flagship insurance property InsuranceQuotes.com. What they do from there we're not sure, we just hung up the phone, but we presume the call is then sent off to a call partner, as warm transfer leads are very much in demand for this industry.
More troubling is that there's no disclaimer within the website that clearly details that Government-Health-Insurance.com is not in fact related in any way with CMS nor Healthcare.gov. They do disclose that they are not licensed health insurance carriers and can not help anyone change or modify their plan. Overall it's not a great disclaimer, and overall this is without question one of the more "black hat" lead gen sites out there. We should note that does not mean that BankRate is doing anything illegal. They're not, what they're doing is technically legal, maybe it's not ethical, but it's not something that they'll get shut down over. It is just not exactly best practices, heck who are we kidding, it's not even good practices.
I think that just about anyone would agree that this website isn't designed with providing the best consumer experience. Instead this really looks like they're simply looking for a way to get people to fill out a form, or pick up the phone, even if it means creating more consumer confusion in the process.
We're going to continue to observe domain industry, as well as the health insurance eco-system and see what both industry leaders and emerging companies continue to do moving forward.